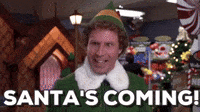 That is right folks, Santa himself will be here in Choctaw on 12/06/2020 at 3:00pm!
The red line is where the parade leads off headed on their journey around the main roads of Choctaw!
There will not be a tree lighting event this year. The lights and displays that we all love will still be on display for everyone to enjoy! The good news is that Santa has informed us that he is going to take a lap around Choctaw Lake to spread the holiday spirit. The parade will start at the Lodge at 3:00PM on 12/6. The parade will follow the as stated on the map above. Position yourself on the passenger side of the road to view Santa. Please maintain social distancing while watching the parade pass by.
Santa has asked that we install a mailbox by our lighting display for all the kids to submit their wish list. The CLPOA elfs will get this installed by 12/6 per Santa's request.
Like many events, we plan to get back to normal in 2021.